Halal rice bowls at Overrice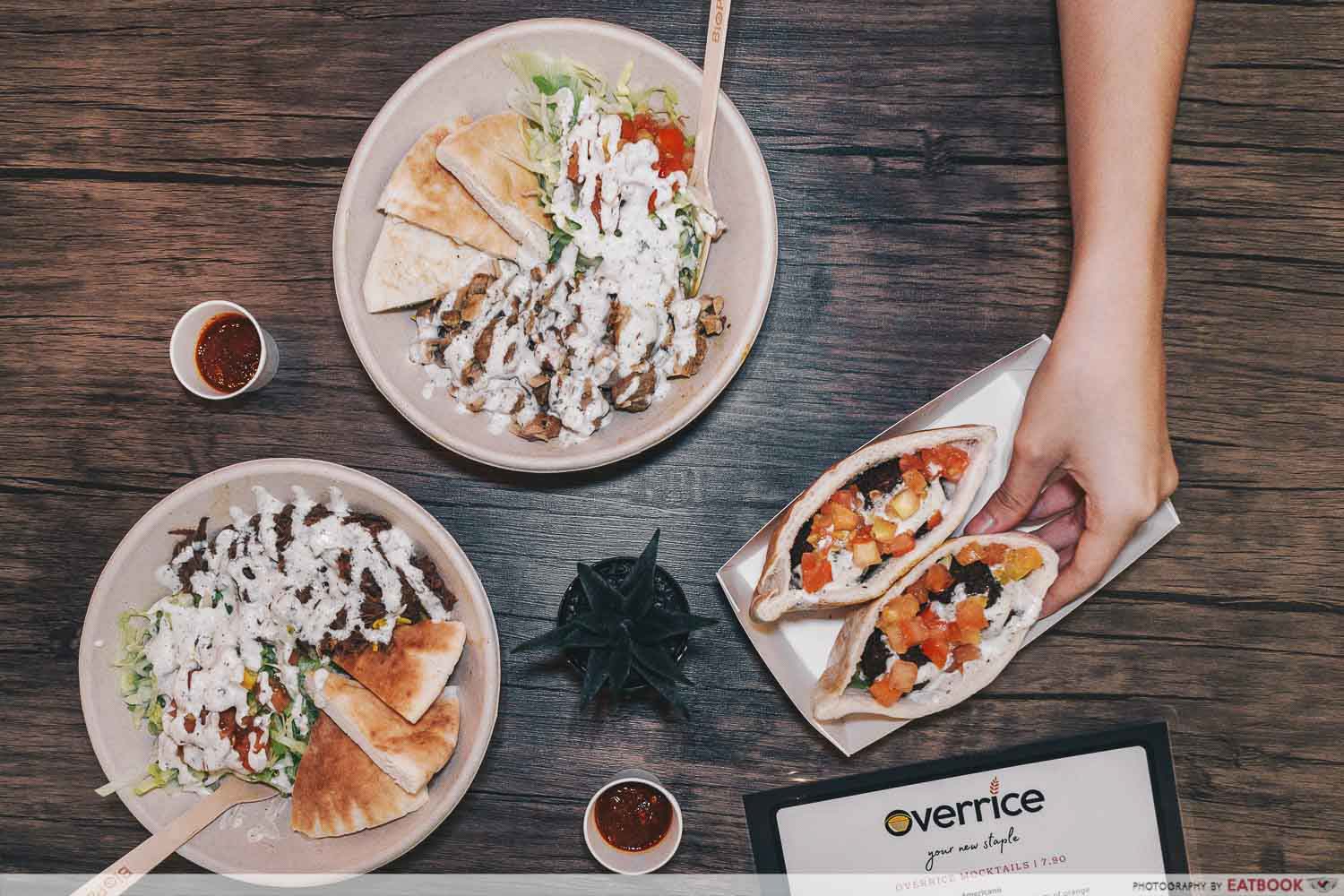 If you've been lucky enough to visit New York before the pandemic, you may remember a local favourite The Halal Guys—a food truck selling halal rice bowls. Overrice is the Singaporean take on that cult eatery, a cosy eatery home to Muslim-friendly rice bowls, pita pockets, and even banana pudding, located at Arab Street
Food at Overrice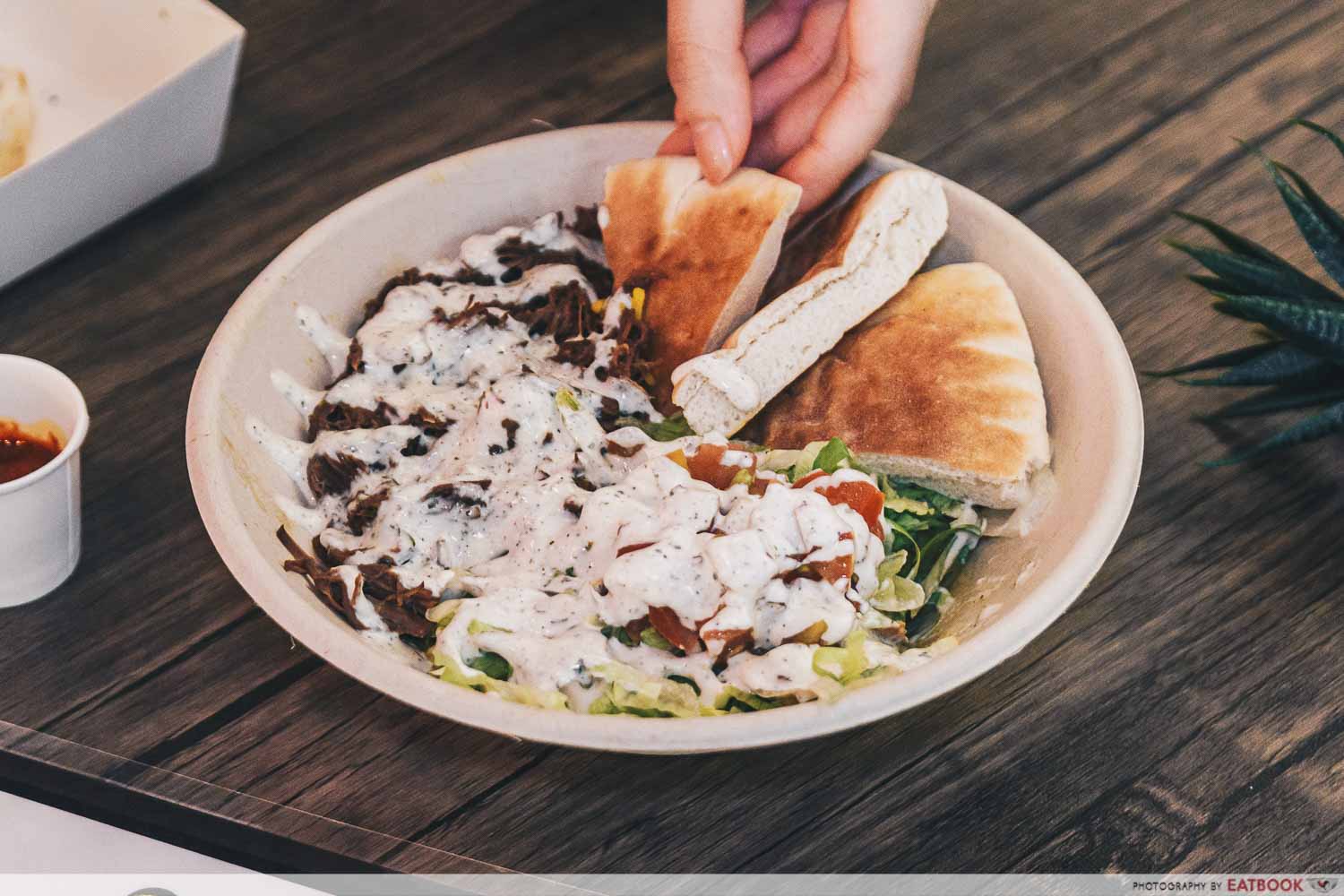 Overrice is best known for their rice bowls so I had to start with their Pulled Beef Signature Bowl ($10.90). It came loaded with pulled beef, a mix of lettuce and diced tomatoes, served over a warm bed of rice. Granted, my description makes the bowl almost sound like a salad,but it really doesn't have that bland flavour that many assume healthy food has.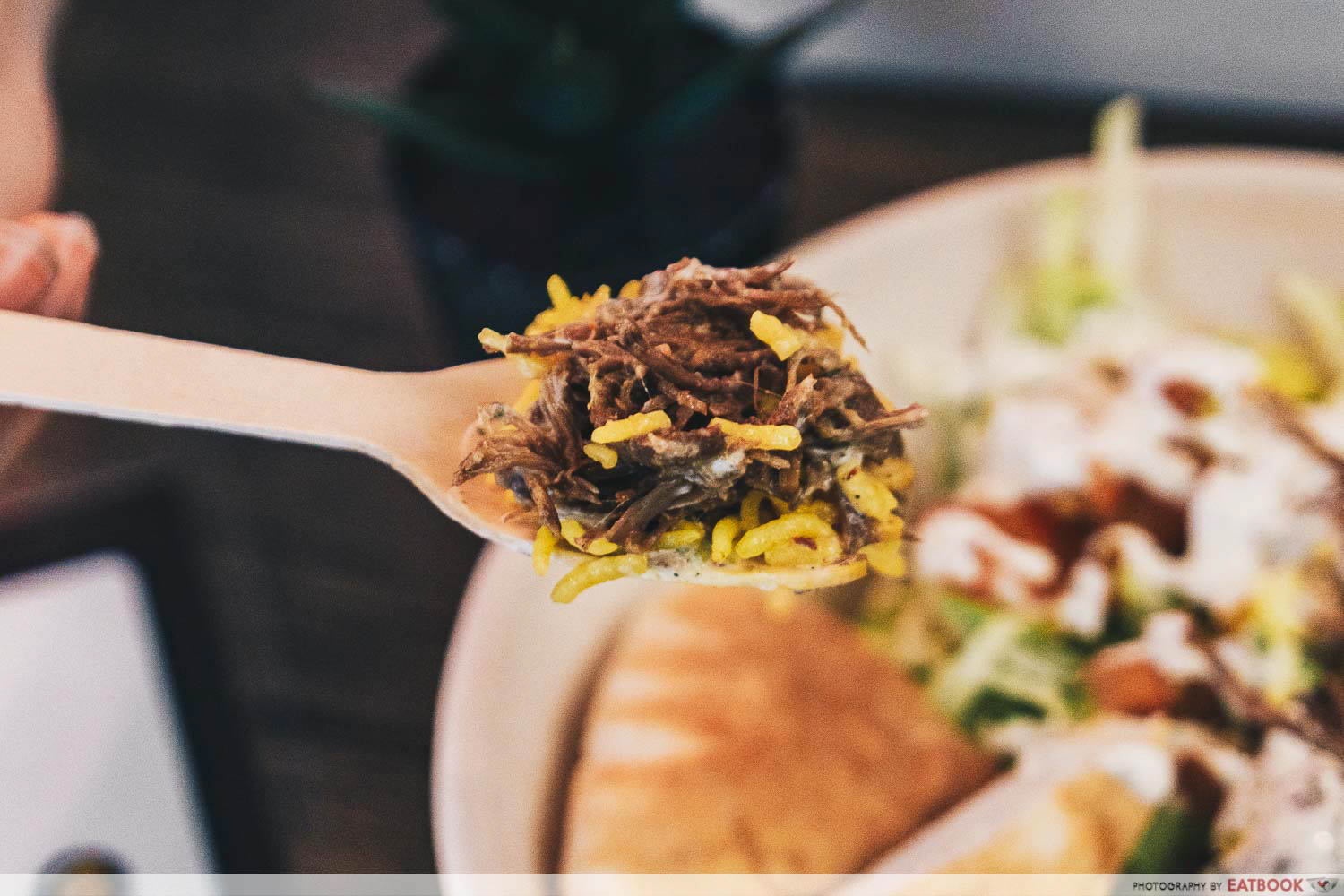 Instead, this hearty portion packed fragrant basmati rice alongside slow-cooked beef, which was succulent and smoky. The vegetables added a welcome freshness, pairing well with what they dubbed a 'secret white sauce'. This sauce was a slightly tangy, creamy topping which reminded me of Greek yoghurt and mayonnaise.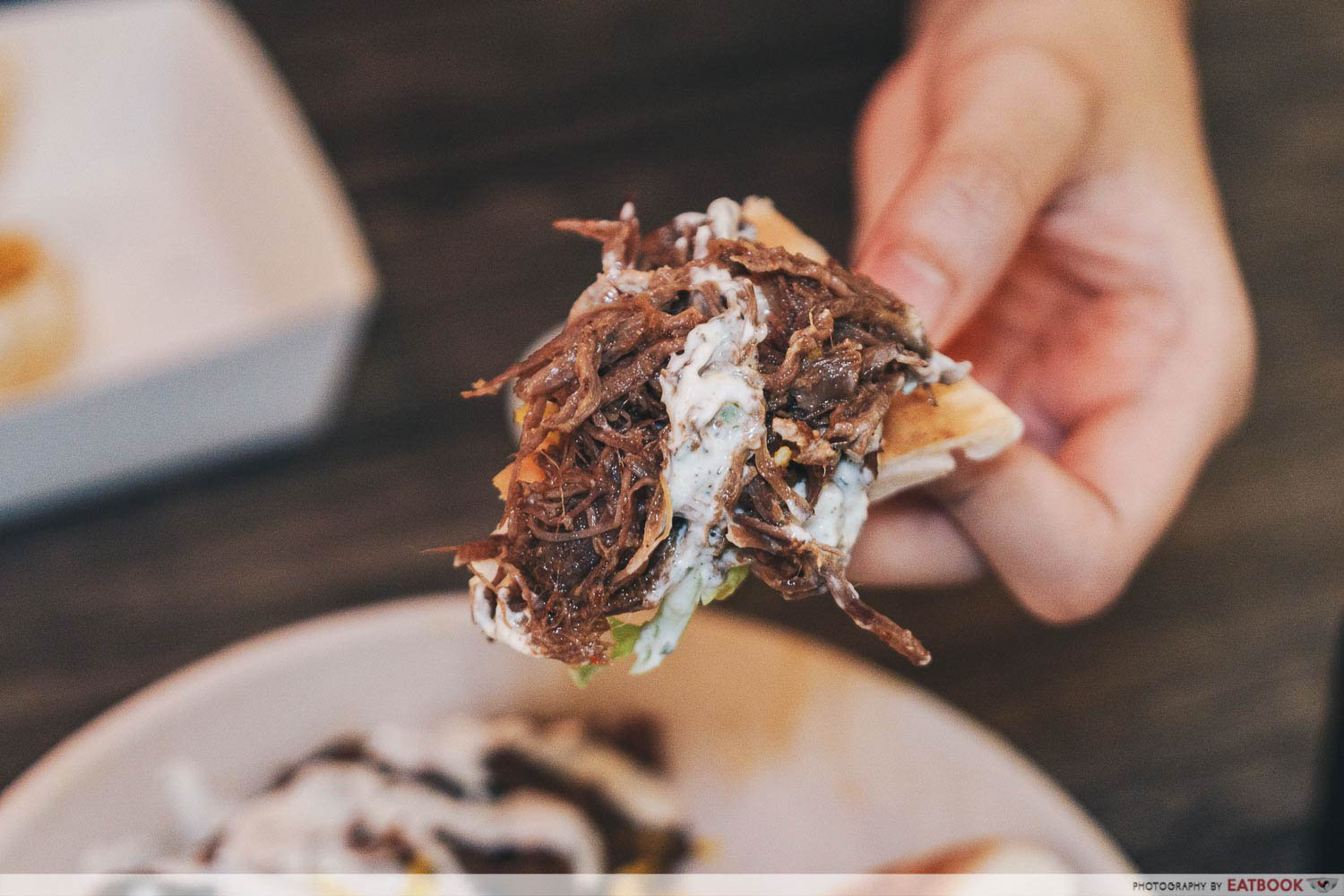 My companion especially loved the fluffy and slightly chewy slices of fresh pita which came with our rice bowl. Feel free to spice things up with some of their fiery red sauce, similar to piquant sambal chilli.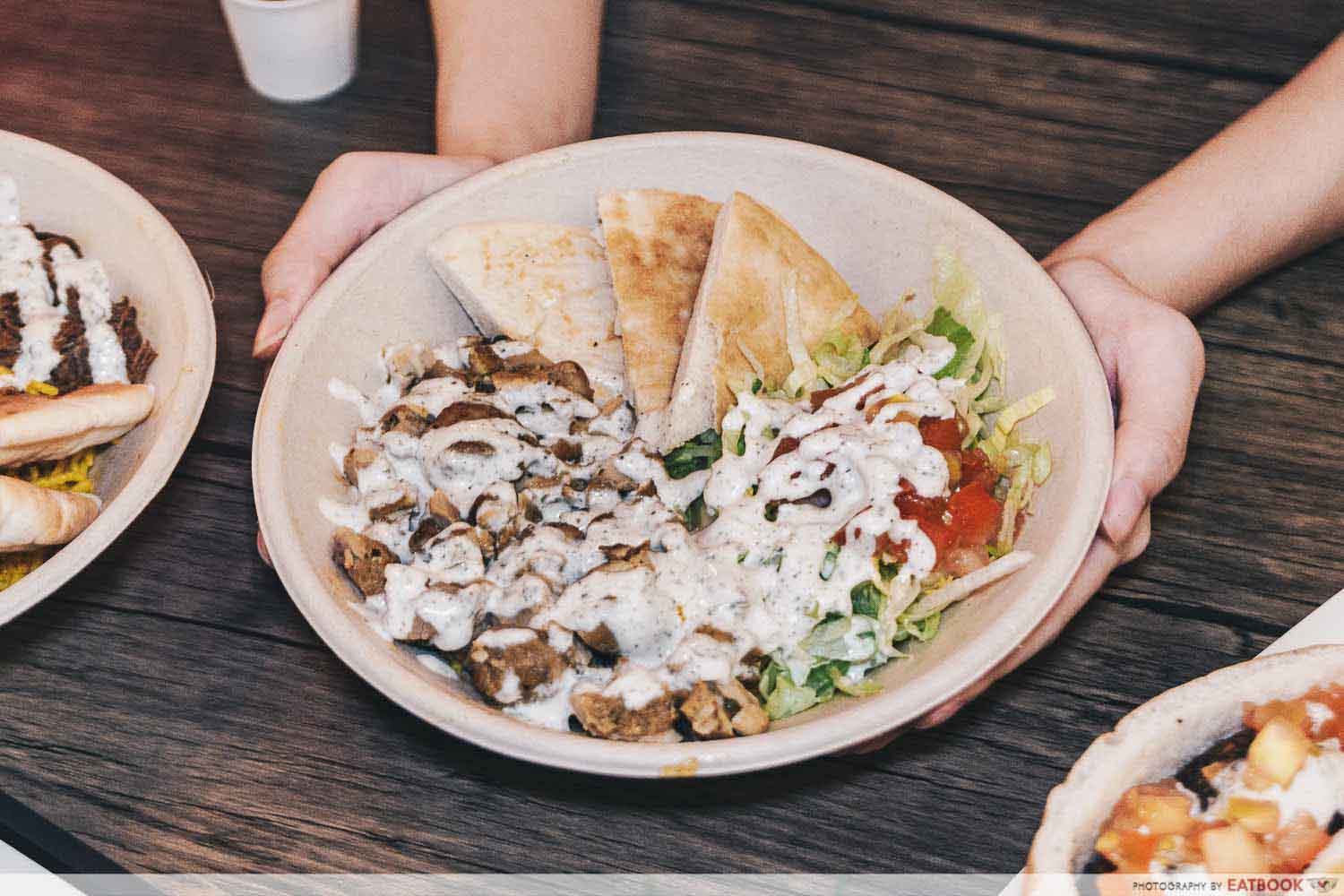 I switched my proteins up with the Chicken Signature Bowl ($9.90).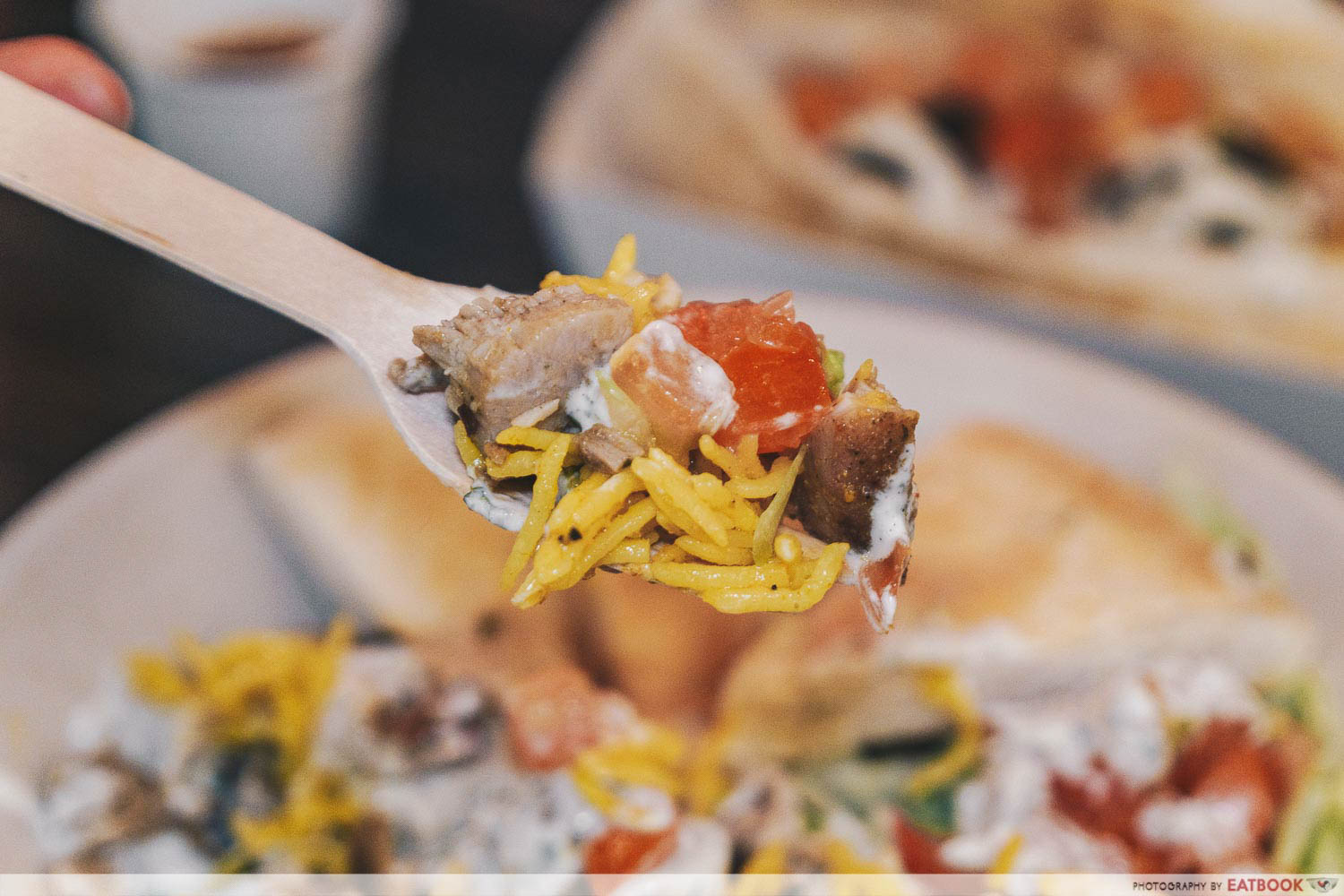 Everything else in the rice bowl remained the same. The juicy chicken was well-seasoned and tender, complementing the refreshing vegetables.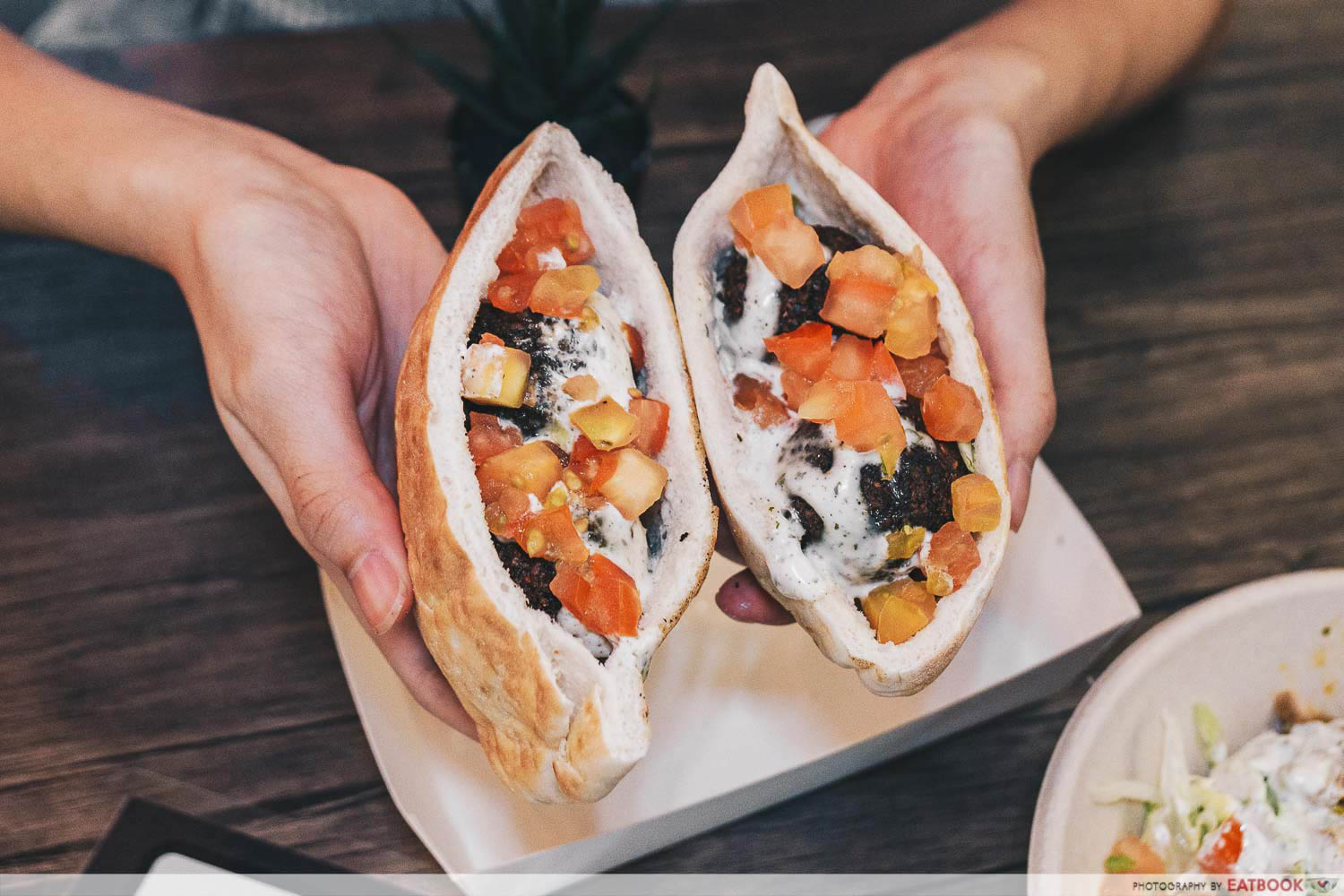 Having had enough rice, we decided to try a different carb with the Falafel Pita Pocket ($6.90). Our dish made use of the same pita bread found in the rice bowls, with the same airy texture. I was delighted to find the pita bread firm, holding its contents without getting soggy as most sandwiches do.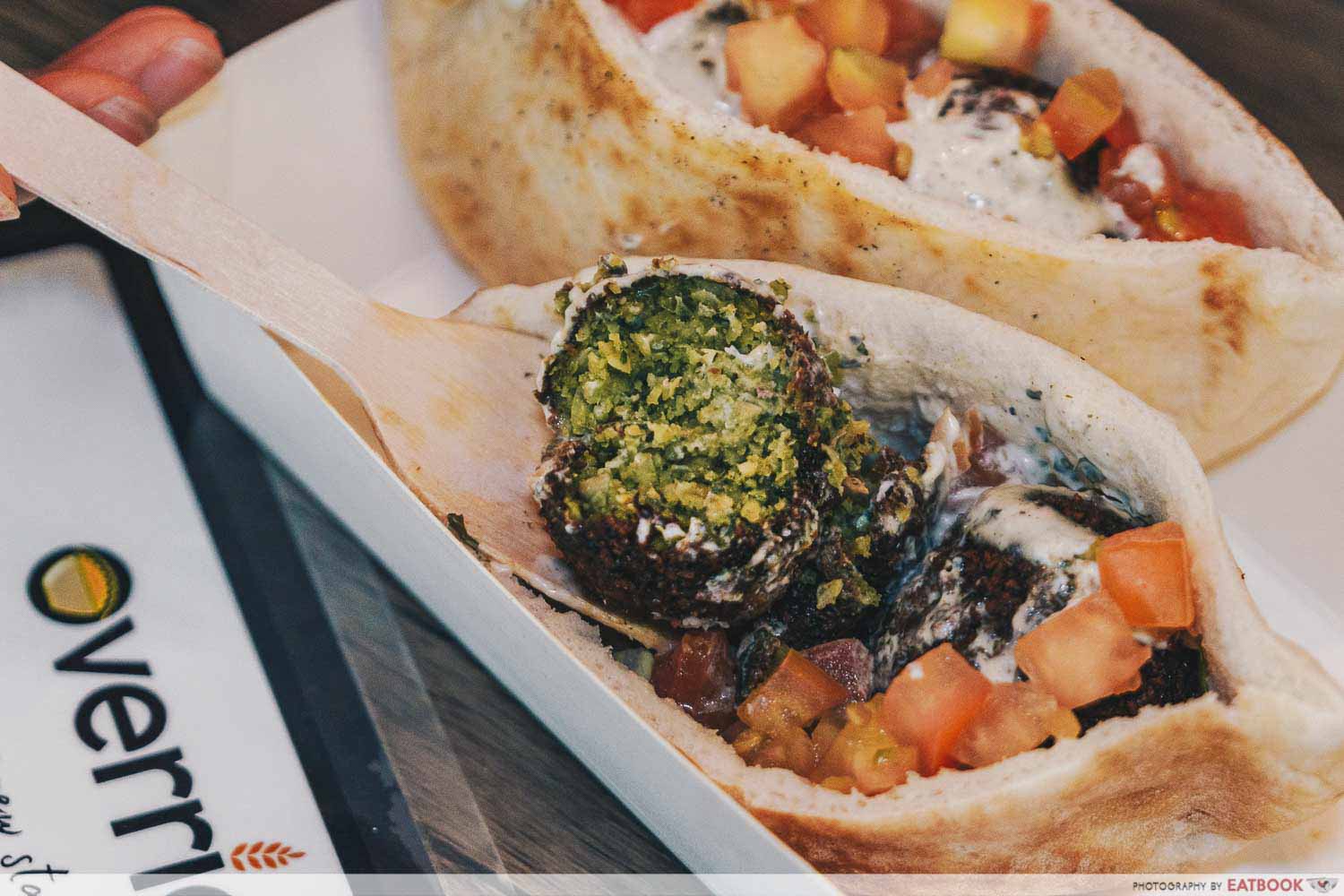 A huge chomp down the fried falafel resulted in a smooth and robust bite. Flavour-wise, it was aromatic and had a distinct, nutty creaminess from the mashed chickpeas. Despite how delicious the rice bowls had been, the falafel pita pocket was arguably my favourite and I devoured it within minutes.
If you're looking to end your visit on a sweet note, Overrice is also home to the Broadway Banana Pudding (from $6.80). Their velvety, light NYC-style banana pudding comes from Okieco, a home-based business.
Ambience at Overrice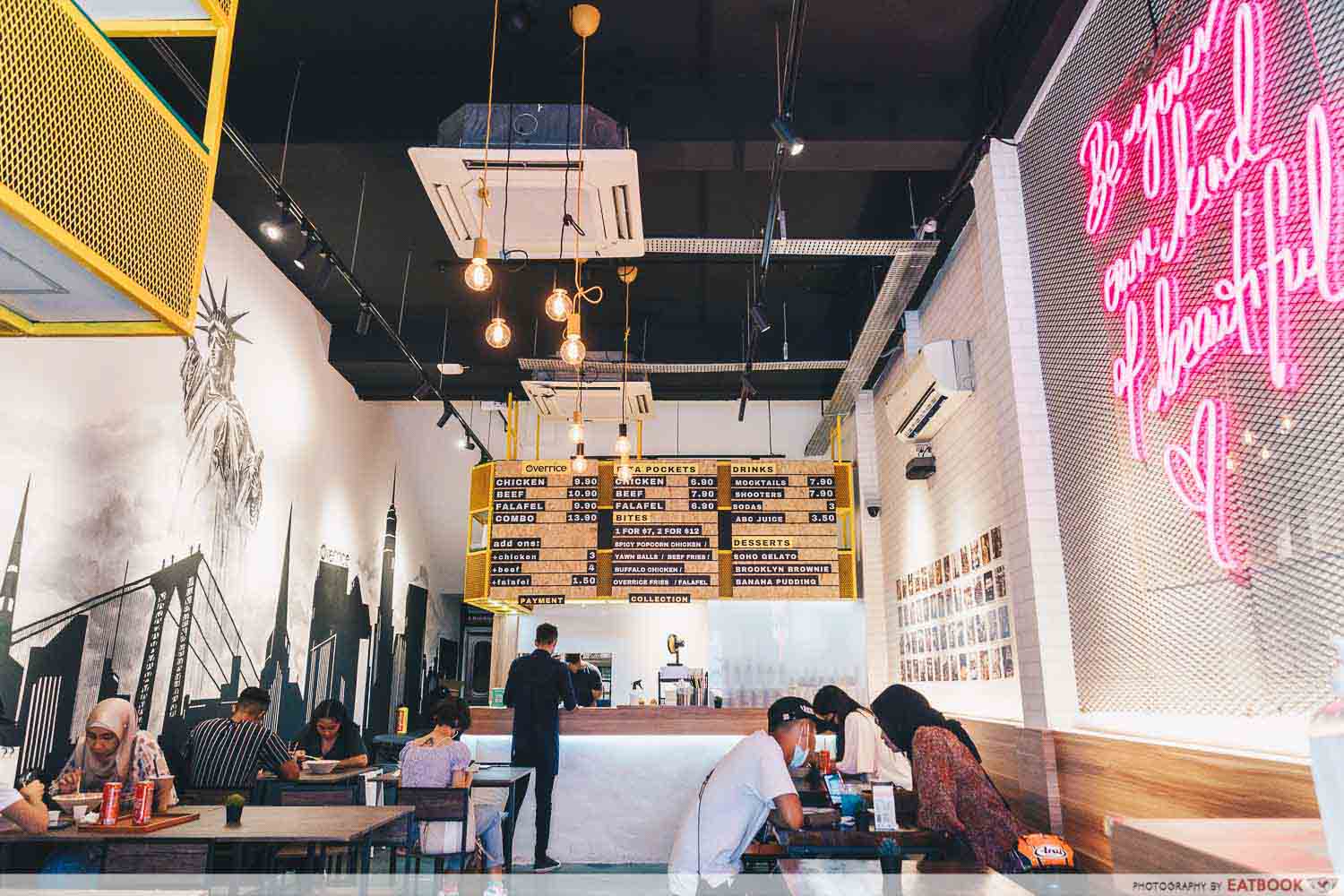 Overrice is located about a 10-minute walk from Bugis MRT Station. Inconspicuous along a stretch of stores and eateries, the eatery might be slightly difficult to find at first glance.
The eatery itself has a very casual atmosphere with dim lighting, making it a nice place to hold a conversation with a couple of close friends. Overrice's walls are lined with the recognisable silhouettes of New York's landscape in addition to photographs of Magnolia Bakery and The Halal Guys as a quick nod to them. Friendly, approachable staff also contribute to the comfortable and chill vibe of the place.
The verdict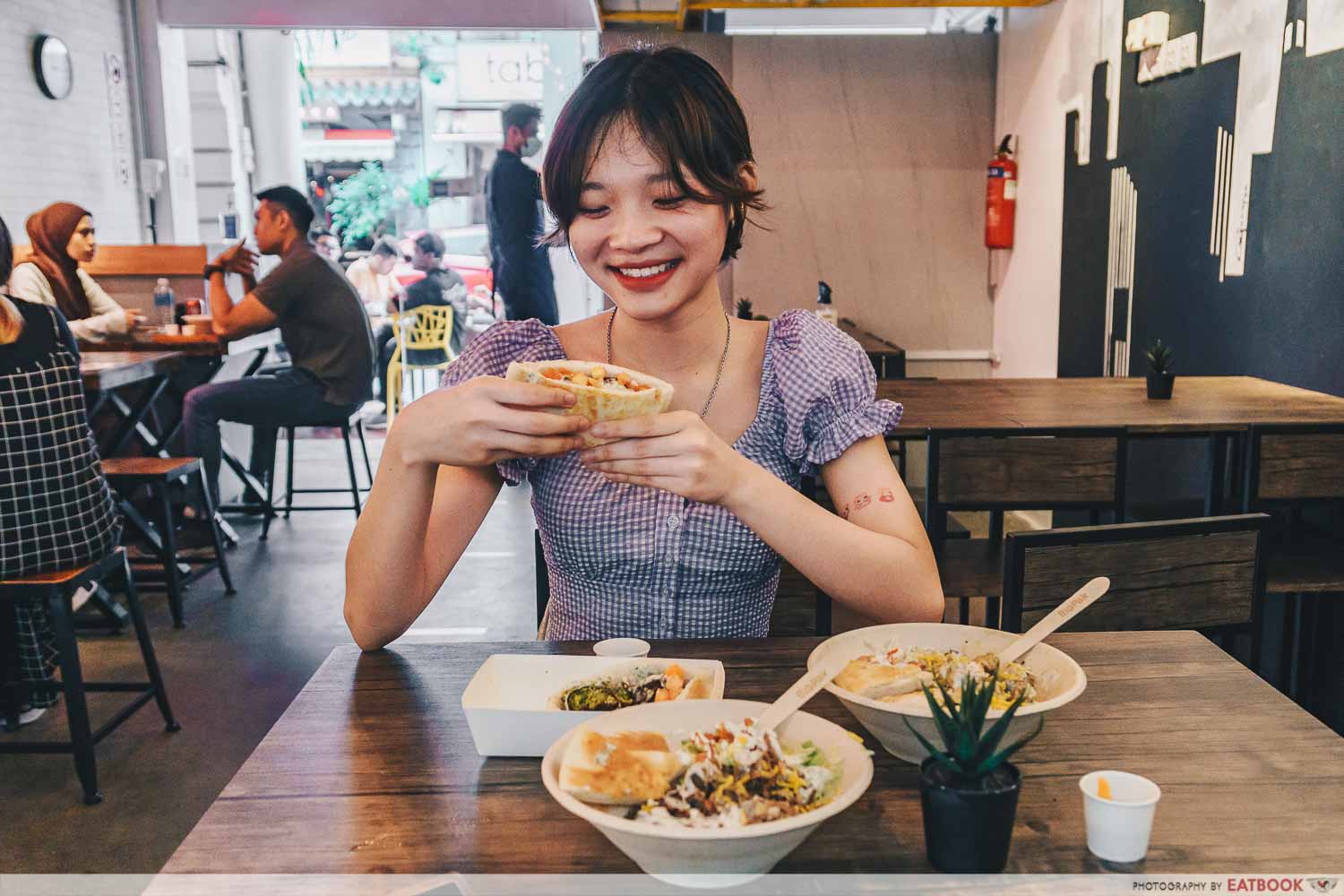 Overrice does offer a bang for your buck, serving up filling, tasty rice bowls and pita pockets, mostly under $10. Though their range of mains, sides, and desserts on their menu doesn't offer massive options, the eatery does what they have well enough. Overrice is a great place to grab a quick bite and I look forward to visiting once again to have another serving of their falafel pita pockets.
Address: 48 Arab Street, Singapore 199745
Opening hours: Wed-Sun 12pm to 3:30pm, 6pm to 9:30pm
Tel: 8877 1827
Website
Overrice is a muslim owned establishment.
Photos taken by Muhammad Hafiq.
This is an independent review by Eatbook.sg.