You don't need to be from New York to have heard about The Halal Guys, a famous food truck empire known for serving up spice-scented meats with rice. And now, you don't even need to travel far to get a taste of the dish. Closer to home, along Arab Street, four Singaporeans have decided to open a rice bowl café inspired by the iconic street cart.
At Overrice, the menu bears resemblance to the greatest hits from The Halal Guys. Beef is slow-cooked to retain all its flavour, the chicken comes grilled simply, falafel balls are fried till golden and crispy. But the main draw here is the white sauce, a creamy, mysterious recipe that is used to drizzle over everything.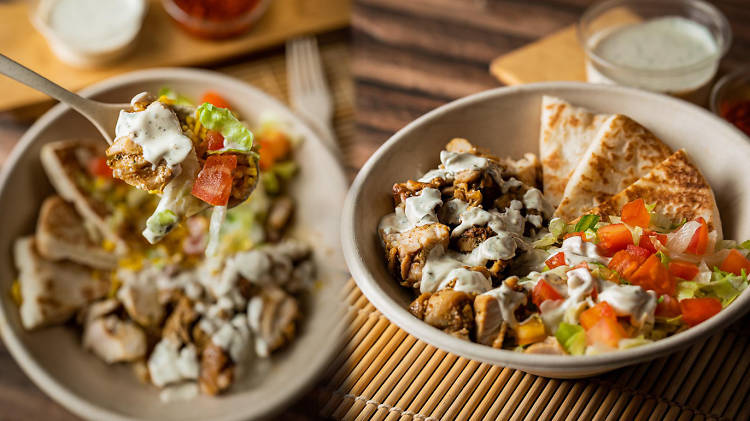 You could have the ingredients stuffed within a pita pocket (from $6.90), but rice is the better option. The signature bowl starts off with scented basmati grains, topped with chicken ($9.90), falafel balls ($9.90) or beef ($10.90). But the smart thing to do is to get the Combo ($13.90), which comes with your choice of two toppings. Lashing of the white sauce ties everything together, and dollops of its spicy red sauce (served at the side) helps lend a bold, fiery kick.
But Overrice is more than just a replica of The Halal Guys; it's a homage to the sights and sounds of New York. The four founders, brought together by a love of travelling, were charmed by the city when they first visited The Big Apple. Within the four walls, you'll notice a graffiti pairing of the city's skyline. Snapshots from New York, taken from both the Internet and their own travels, decorate another side.
The dessert and snack menu is where things depart from The Halal Guys. According to one of the founders, Hakim Abdullah, Yawn Balls (from $7) are a riff on cucur udang, a version of prawn fritters. Here, yam comes shredded and used to coat a middle of minced prawn, then fried to create an addictive crisp snack. Also worth a try is the cheesecake shooters ($7.90), where the dessert is blended down to a luscious slushie-like texture, and flavoured with blueberry, strawberry, and yuzu jam.